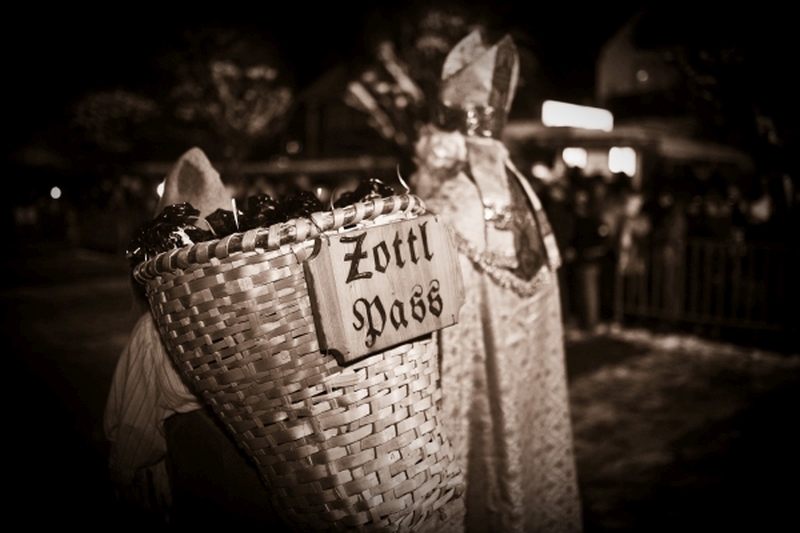 Zott-Pass St.Gilgen
St.Gilgner Krampusse e.V.


1998 was the year of foundation of Zottl-Pass St.Gilgen. It was a clique of 5 - 6 people, who had the idea to create a folkloric group. At the beginning everything was still very poor, but over time, the Zottl-Pass St.Gilgen became a group of young people for whom the word customs is not a foreign word. In 2015 Zottl-Pass St.Gilgen decided to become a registered association. This year, ie 2018, in the 20th year of existence of the Zottl-Pass St.Gilgen, the group has 22 members, of which 21 are active, of which each member has a special area of ​​responsibility. The Zottl Pass has 12 Perchten, a Nikolaus plus replacement, two Moosmandln and some helpers at the start. The name of the pass was created because the Zottler Krampus was among the first in St. Gilgen to have a coat with long shaggy legs. The Zottl-Pass St.Gilgen is not only present at sightseeing runs, but also performs various home visits and other things. This requires good coordination and organization, which our observers Peter Kronawettleitner and Michael Wurm, who bring in the service of Zottler everything out of itself, is up to. For various organizational things, we hold meetings, where usually all members are present, It is always nice every year when you see the glow of children's eyes at home visits, who enjoy the sight of Nicholas.

Of course we do not want to miss the fear of teaching the big children in the Perchten runs in the area!
One of our most important events of the Zottl-Pass St.Gilgen is, of course, the annual fire jumping at the parking lot of the volunteer fire department St.Gilgen, the Krampussrummel at the Hotel Hollweger St.Gilgen and the many home visits around St.Gilgen!

So do not miss out on seeing the Zottl-Pass St.Gilgen in action!